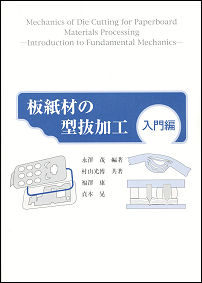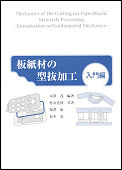 Mechanics of Die Cutting for Paperboard Materials Processing
-Introduction to Fundamental Mechanics-
Author and Editor: Shigeru Nagasawa
Collaboration: Mitsuhiro Murayama/Yasushi Fukuzawa/Akira Sadamoto

B5 Size 143 Pages ISBN 4-906364-42-X
Price 6,500yen Kameda Book Service
July 26 2004

The problem of the stamping out processings of paperboards is composed of systems of various integrated technologies.
It is necessary to know sharpness of tool and deformation performance of amputated material, and, first of all, to produce dieboard by which you may select shape of an appropriate tool and an appropriate material. Next, the operation technology over many topics of securing the durability of the blade canceling irregularity of cutting of flatbed machine , and the consideration of the ruled line must surely be formed without the surface crack, temperature management to stabilize mechanical characteristic of print paints(crack, peeling off, changing in quality of frictional properties, etc.), adjust ruled line rigidity necessary for paper container manufacturing process, and promptly diagnose and restore damage of tip of the blade and paper blocking, etc. diagnosing it is needed, because of paper container manufacturing standpoint.
This book simplifies very parts of these further and is an attempt of the analysis and the explanation.