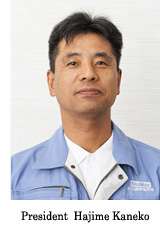 CS(Customer Satisfaction) and ES(Employee Satisfaction) have correlation. Although which thinks that it is not the point, a company and an enterprise are not realized if customers are not satisfied. Conversely, can good work be performed in the company which the employee has not satisfied? The talk of five persons' happiness was heard. They are "Employees and families", "The employees of cooperation companies and families", "The present customers and the future customers", "Local residents" and "Stockholders and equity participants". This turn is an important and it is also an important portion to include a family. I want to add "the repayment of favor to the industry" as something extra here.
Our company always runs a head in the cutting die manufacture field and I take pride in technology and development capability being recognized as the result. However, the current evaluation is not the thing which can accomplish only in us. Of course there is the effort of the employee, but our company do not exist without the instruction from customers and the cooperation of outside people.
The first stage, Kichinojo Aoki(the first president) and Takeshi Katayama(the second president) established the cutting die manufacturing method and improved a skill and produced many craftsmen. The second stage, Isamu Katayama(the third president) made the positioning of the leading company immovable in the industry by the innovation of the manufacturing method, the structure construction of the university-industry research collaboration and new product development. These past results and evaluation are nothing but the gift which was brought up by the whole print paper container industry not the result that continued running alone.
Not to mention the continuation of the new product development based on the improvement of the skill, the technological innovation and the academic-industrial collaboration, I place breaking with the established concept of the structure of cutting die, the manufacturing method and the die cutting technique, challenge to material of die cutting except the paper and grope to sales promotion to the overseas with the third stage and push on by all of our company in my days.
The employees who think and devise while aggressive opinions fly become the smile in the sense of accomplishment not the employee as the craftsman who handles work given silently exactly.
-> The cooperation company gives support to us by much suggestion.
-> The products which is produced from there correspond the needs of the customers and they become higher than them and supports the stable production and efficiency production of the customers.
It enables local contribution to turn this cycle. Sometimes, the raise of the industry is planned by the cooperation with the person in the same profession. And if everybody can keep with smiling, it is "the repayment of favor to the industry" which I think about.
I wish that the mind of Katayama is inherited ceaselessly in the next generation while realizing them, and bringing up a talented person who plays an active part on the fourth stage.
Katayama Steel Rule Die Inc. President Hajime Kaneko