Diemex Rubber Sheet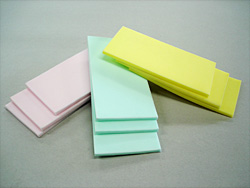 Main Usage

Because Rubber has finished in the seat, it is possible to put on an arbitrary size and to put it on the dieboard and the upper tool of the blanking by cutting it.
Deterioration is suppressed by excellent quality, and the machine stoppage at moment that causes re-pasting and productivity decline is prevented.
---
Feature

It is a material developed to meet various requirements requested from rubber of dieboard for the high performance and high-speed stamping out machine. The durability(Compression frequency & decrease rate) and the steady repulsion power have been proven. It is a lineup as for the hardness requested on the stamping out site. The hardness is classified with color with light pastel.
---
---
Repulsion power decrease after endurance(kg/cm2)

Amount of repulsion power decrease after endurance
(300,000 times after endurance)

Firmness loss after endurance

Firmness loss
(300,000 times after endurance)

The load to blade doesn't change
because the repulsion power hardly decreases
300,000 times after endurance.

There is no hardness variation 300,000 times
after endurance and is no material degradation.
Sheet Size: 7.68in x 3.74in x 0.275in
| Colors | Yellow | Green | Pink |
| --- | --- | --- | --- |
| Hardness | HS 65 | HS 45 | HS 30 |